Predicting Difficult Video Laryngoscopy (Preview)

The SHANA Education Board would like to offer for your attention and discussion the study by Drs. Caldiroli and Cortellazzi, published in Minerva Anestesiologica in 2011.
Video laryngoscopy is highly effective in difficult airway management, yet, the factors predicting its difficulty are not well defined. The study by Aziz M et al. (http://journals.lww.com/anesthesiology/Fulltext/2011/01000/Routine_Clinical_Practice_Effectiveness_of_the.17.aspx) showed that altered neck anatomy with presence of a surgical scar, neck radiation changes, or neck mass were the strongest predictor of Glidescope failure; however, the study was retrospective.

Caldiroli and Cortellazzi prospectively studied over 6,000 patients and demonstrated that the routine preoperative use of a modified El-Ganzouri risk index (EGRI) reliably reduced the risk of difficult or failed Glidescope intubation. The original EGRI (www.anesthesia-analgesia.org/content/82/6/1197.full.pdf+html) assesses 7 predictors of intubation difficulty on a numerical (0-2) scale: mouth opening, temporomandibular distance (TMD), Mallampati, neck mobility, ability to prognath (degree of mandibular protrusion), body weight, and history of difficult intubation, resulting in a maximum difficulty score of 12.

The study by Caldiroli and Cortellazzi received relatively little attention, and we are looking forward to hearing your opinion. Shall the modified EGRI be used routinely to predict difficult video laryngoscopy?
 
You can download the free full text of the article here: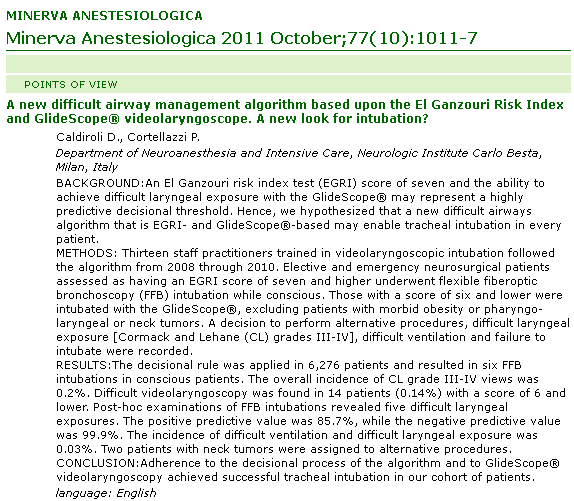 Join SHANA or Log in  to view more/discuss on Forum.